Various Logos, Set 1
five65 has created some of New Orleans most recognizable images. Our logo and corporate identity projects aim to be attention getting, memorable, appropriate and delightful.
The goal is always: solid concepts that capture the essence of each company.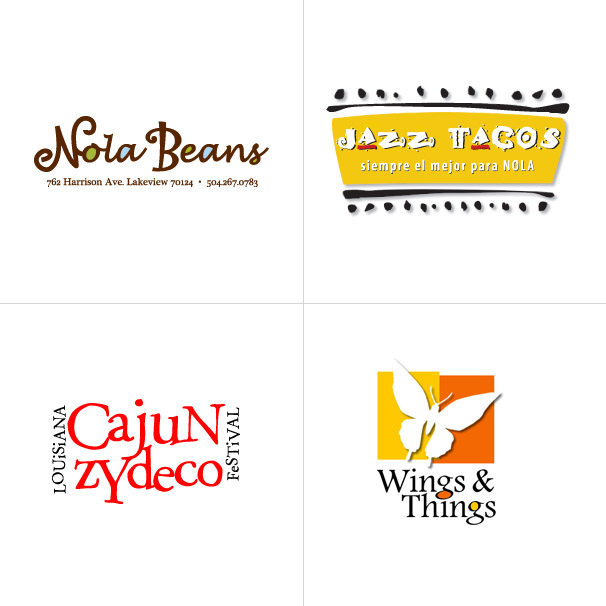 Various Logos, Set 2
We design logos for businesses, cultural organizations, trade associations, universities and non profits.
We don't believe logos should cost a fortune or take years in the making, but we do believe logos should reflect the attributes of your company.
So, tell us: What should your logo stand for? What sets your brand apart?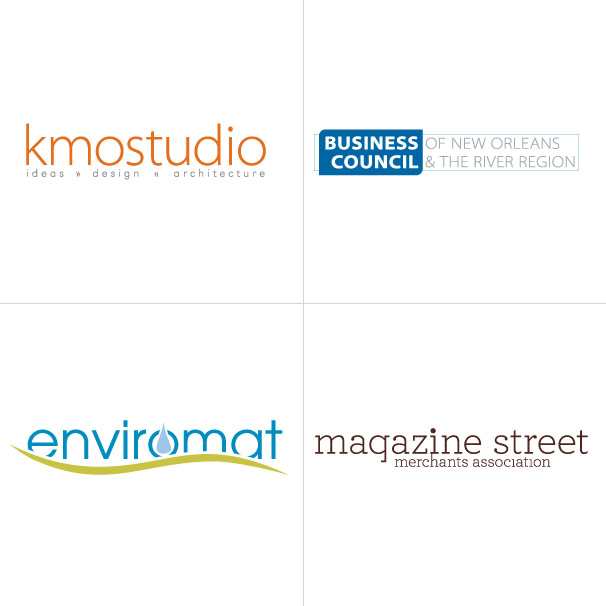 Nola Beans biz cards
five65 designed a logo, identity system and business cards for Nola Beans, a popular Lakeview cafe.
The cards feature a one color front, with contact info set in a rich, chocolate brown against a lime green pattern on the back.
The logo sports whimsy, while the color palette and typography reflect quality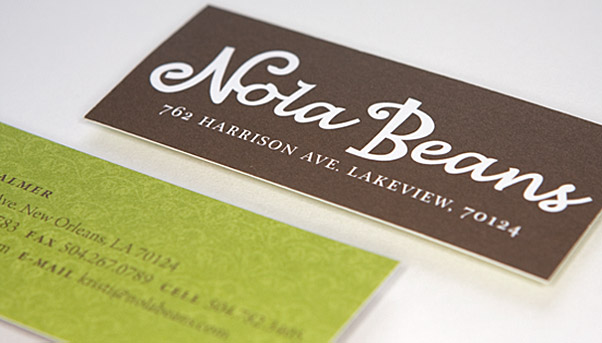 kmostudio identity system
kmostudio, an architecture firm based in New Orleans, hired five65 to design its corporate identity.
The logo was refined to its minimal essence, and type was set in a light weight of Grotesk. Printing was accomplished as a two-color job with an embossing over the logo. The firm is known for its detailed approach and modern design aesthetic. Like its slogan says: ideas, design, architecture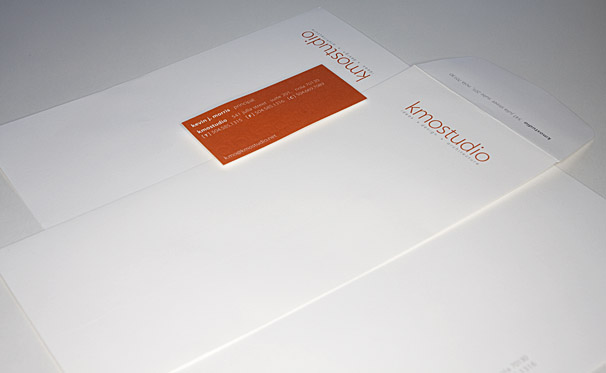 Jazz & Heritage Foundation
The New Orleans Jazz & Heritage Foundation is the non-profit that owns Jazz Fest.
The Foundation works year-round to bring cultural events to New Orleans. Among its many assets are community music festivals, the Jazz & Heritage Archives, WWOZ-90.7 FM Radio, the Tom Dent Lecture Series and the Don Jaminson Heritage School of Music.
We worked with the iconic second line mark, created by Tom Varisco with Mike Fisher. Our brief was to give the corporate stationery system a modern feel, and to draw attention to the many assets NOJHFF brings to the City.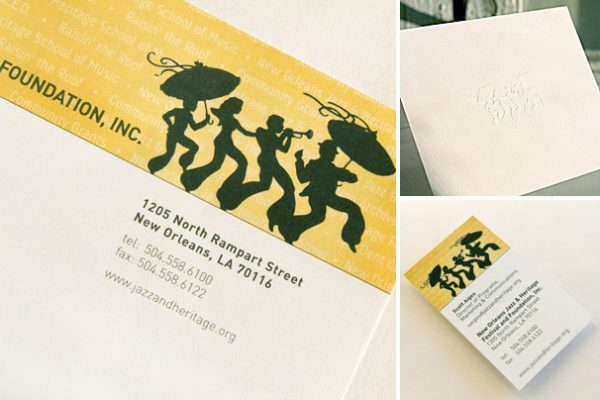 Websites & Interactive Projects
Print Materials: Brochures, newsletters, posters & more
Associated Terminals Newsletter
five65 has worked with Associated Terminals since 2005.
We were contracted to do a brand audit, and one of our first deliverables was to revamp their corporate newsletter.
This piece is sent quarterly to the company's customers, employees and colleagues in the maritime industry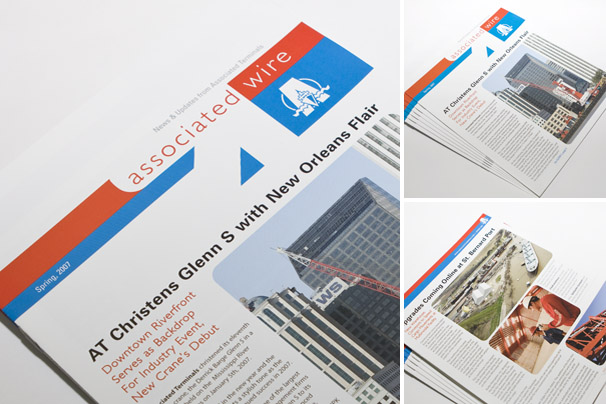 GBT Brochure
This brochure is for Galveston Bulk Terminal, a modern, multimodal marine transport facility in South Texas.
It was produced for Associated Terminals. The brief was to deliver a concept that would help AT's sales staff showcase their facilities and the unique features at each one.
This design was templated for use at other facilities in Associated's network across the U.S. Gulf South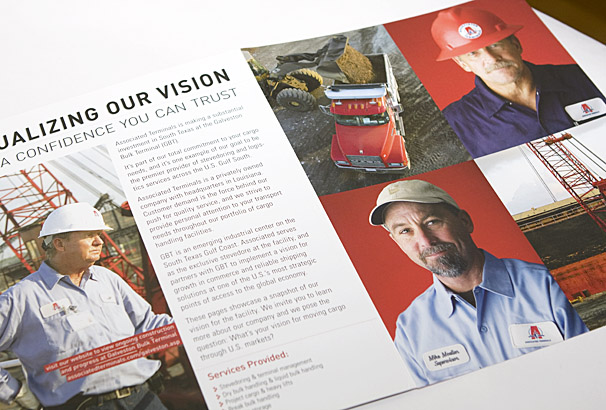 UNO Brochure
The Capital One-UNO Charter School Network has contracted with five65 to produce print, web, photography and art direction since its founding.
This brochure was printed to provide parents, students, and the community at large with an intro to the UNO Charter Network, and features photos of students at each of the schools.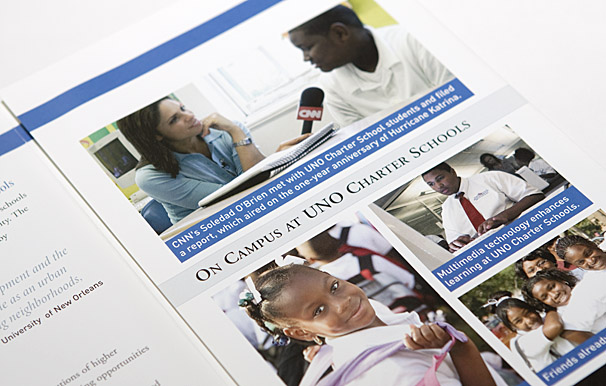 UNO Pocket Folder
This pocket folder was built for the UNO Charter School Network.
The brief was to produce something that can be used to showcase information to a wide variety of audiences.
It was printed in four color process to a high-quality paper stock with a matte finish and spot dull and gloss varnishes on the cover.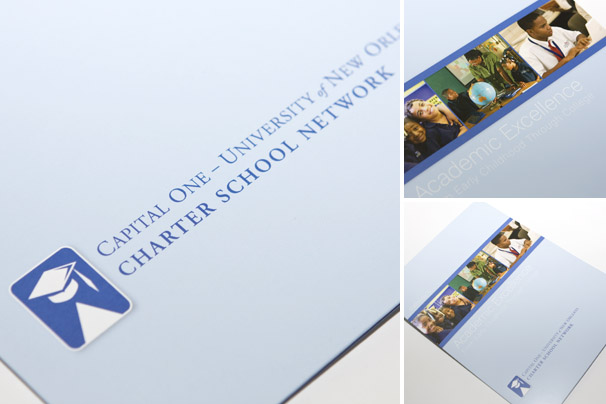 LA @ SXSW
This packet of collateral material was produced for the Louisiana Music Export Office and the La. Deptartment of Economic Development.
It was used at the South by Southwest Music and Media conference in Austin.
The State of Louisiana and City of New Orleans sponsored a trade show booth at the event. five65 produced flyers, postcards and event badges for a post-conference party.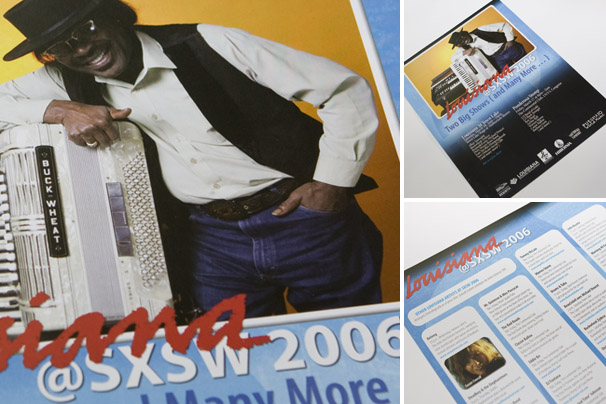 Specialty Graphics & Merchandise
Nola Beans
The Nola Beans brand is extended by making use of the logo on tshirts, ball caps, insulated drink mugs and more.
We worked in collaboration with the owners to extend the branding throughout the restaurant.
Signage, merchandise and accessories were chosen to match the color palette in the identity system.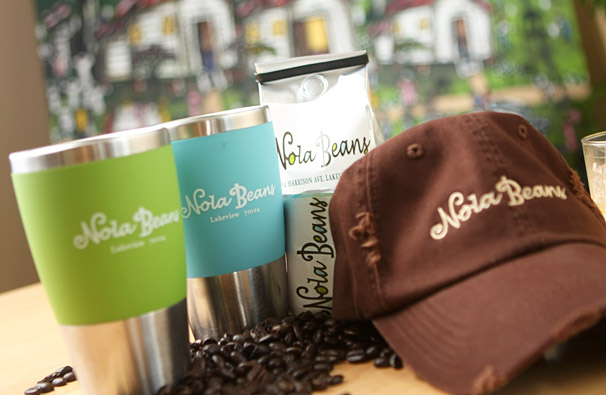 Jazz Fest banner stands
The Jazz & Heritage Foundation hired five65 to design and produce roll-away, trade show style banner stands.
These large format print pieces are used at many neighborhood festivals, and during the annual Jazz Fest in the Foundation Hospitality area and in the "Fans of the Fest tent."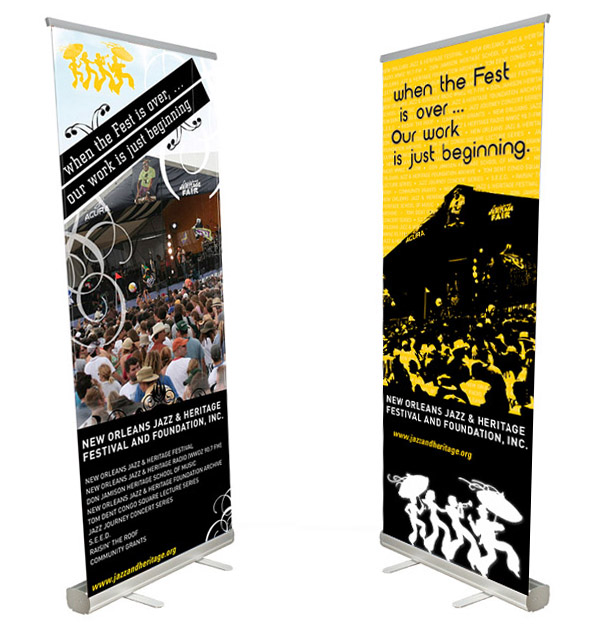 Jazz Fest kiosks
The Jazz & Heritage Foundation hires five65 on an annual basis to produce specialty print items for "Fans of the Fest". This membership organization supports the Foundation in its efforts to bring cultural programs to New Orleans. We produced these kiosk panels, a membership pin and t-shirts.
Want to join "Fans of the Fest"? Just visit www.jazzandheritage.org to sign up!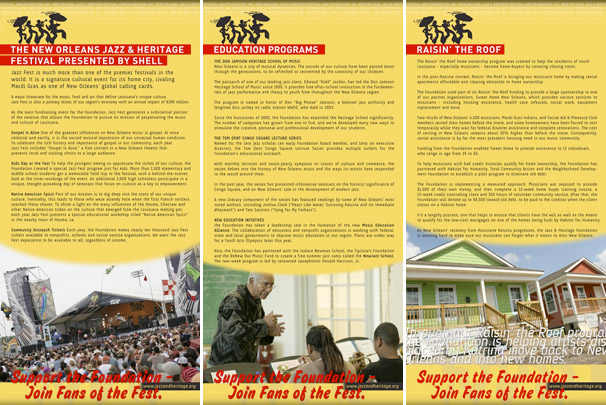 UNO banners
These large format banner stands were designed for the University of New Orleans' College of Education.
They are used as on recruiting visits, at academic conferences and on campus throughout the year.